Where Does the 'Selling' Take Place in Your Social Media Marketing Campaign?
Where does the selling actually begin in your social media marketing campaign. No doubt you have a social media marketing campaign going on…but even if you don't, I'm sure you've heard all the buzz about them…so assuming that you do have yours set up and running for your business, do you know where the actual selling is done?...and if you're trying to do it in any other place, you may be killing your chances of success.
This whole social media scene has grown so big, so fast, that many businesses fail to realize just exactly where the selling of your products or services is done. They tend to pull the plug on there social media campaigns early because they don't understand that having a social media marketing funnel in place is essential in order for a successful campaign.
Just as you should have an over all marketing funnel, so too, must you use the same concepts and principals in your social media marketing funnel. In any type of marketing funnel, you'll have thousands coming in the top, so of course it'll be wider and broader. You'll want to extend your invitation to a broader, yet still targeted, range of prospects.
**So if you niche was 'eliminate your slice'…as in your golf swing…you'll still want to target anyone that is interested in golf….you'd be foolish not to.**
The first step would be the social networking sites like Facebook, Twitter, LinkedIn, just to name a few, and get into the conversations. Start to attract friends, followers and connections…in your niche market…and start to build a relationship with them.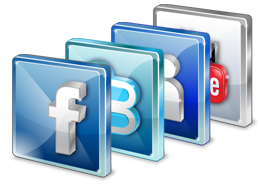 If you're able to add value to their life in some form, they will follow you loyally. This is not where any selling should take place, it's the relationship building stage, and should really be considered more a personal conversation first, rather then straight business talk.
Along the way in the relationship building stage is where you'll want to introduce them to your blog or website. You can be sending them to your blog or website and giving them even more great content and value.
While sales can be made at this point, your real goal should be to get their name and email address by offering them a free report, video, audio or newsletter.
** So you can see why it imperative to start off by giving them as much value as you can so they'll be dying to sign up for anything else you have to offer. **
Once they're signed up on your list, you can go ahead and continue to give out more value, but now you can begin to market your products or services to them. At this point in the marketing funnel, your prospects have demonstrated that they are willing to take the steps necessary, and are very eager to get what you have, and know what you know.
So now you have a better idea and can see how your funnel should look…of course, while every funnel and system may be a little different, they are all fundamentally the same. So plan out your strategy precisely, and map out your action steps follow, and you'll be on your way to a successful, profitable social media marketing campaign